Join the team!!!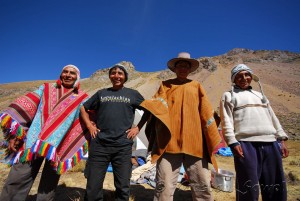 Please help the Sibinacocha Watershed Project's efforts to study and protect this incredible natural area.
The Sibinacocha Watershed Project is a Federal 501(3)(c) charity. In addition, it is a Colorado Charitable Corporation. EIN: 47-3995715
Cash and most in-kind donations are tax-deductible.
HOW YOUR DONATION WILL BE ALLOCATED

You may designate your donation for allocation to a particular researcher/project. Unallocated donations will be used to support the most important projects and conservation initiatives, which will be determined by our board of directors.
In order to allocate your donation, send a note with your check specifying the researcher and/or project you wish to allocate to. If donating by Paypal, indicate your allocation in the 'notes' area of Paypal.
HOW TO DONATE

There are a few ways to donate:
Paypal
A receipt for your donation will automatically be generated. If you wish to receive a paper receipt, please include your mailing address in the 'notes' section of your Paypal donation. 
Check
Please make checks payable to: Sibinacocha Watershed Project
Mail to:
Sibinacocha Watershed Project
145 Pine Needle Rd
Boulder, CO 80304
Please be sure to include your return address so that we may send you a receipt for your donation.
IN KIND DONATIONS
In kind donations may also be tax-deductible! Gifts of goods, services, and expertise can really make a difference. If you wish to make an in-kind donation, please contact us at:
sibinacocha@gmail.com